There is a life cycle to every document. What's hot today becomes tomorrow's
archives. Make timely decisions and keep things moving!

Angela Kantarellis
In my many years as a Professional Organizer, I have found that the number one reason for paper clutter is an ineffective filing system. Use the guidelines below to implement an effective filing system for your business.
There are 3 Types of Files. You want to keep them moving from one category to the next in a systematic and orderly fashion.
Working Files – on your desk or credenza
Active Files – in file cabinets
Archives – bottom of file cabinets towards the back or offsite (typically farthest away from you)
Start by using a graduated file sorter for your Working Files. You can get the one pictured here at any office supply store. Or you can opt for stylish a desk top file like the Circuit Desk Top File from the Container Store pictured here in orange.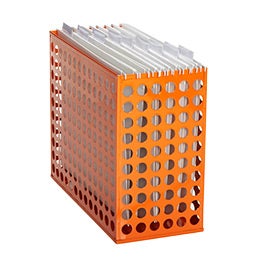 Use the categories below as a starting point for your office filing system.Customize your filing system to suit your style and business needs. Remember – if your filing system doesn't work for you, you won't use it so make sure it makes sense to you.
Lastly, set a time once a year to purge files and move the current year's documents from Active to Archives. Keep things moving!
 Working Files – on your desk or credenza
Active Projects
Active Clients 
Reference materials you use daily 
Active Files – in file cabinet near your desk
Completed Projects
Client Files (completed business)
Accounting
Business Expenses
Bank Statements
Investments
Legal
Payroll
Personnel Files
Vendors
Archives – bottom of file cabinet towards the back
Business Plan
Incorporation Materials (keep corporate seal at your desk)
Insurance
Leases
Tax Returns
AK Tip#1: Keep new file folders nearby. Create a new file with every new project. This will keep things from piling up on your desk AND everything related to the project will be at your fingertips!
Are you an entrepreneur or business owner? Leave a comment below and let us know if there are files we need to add to our list.